Good Quality Fully Automatic UBM-1520 Round Bottle Labeling Machine
UBM-1520 is a new generation of labeling machine designed by ourselves after improving the glue on the basis of the automatic non-advanced automatic labeling machine on the intelligent labeling machine....
UBM-1520 Round bottle labeling machine
Model

UBM-1520

Voltage specification:

AC220V 50/60HZ single phase

Power consumption rate:

0.75KW

Labeling speed:

0-200 bottles/min (according to the length of the label)

Labeling accuracy:

plus or minus 1mm (except for bottle and label errors)

Applicable container range:

outer diameter 10-100mm, height 20-260mm (special specifications are customized according to specific requirements)

Applicable label range:

height 18-160mm, length 20-300mm (special specifications are customized according to specific requirements)

Maximum label supply:

350mm diameter, 76mm inner diameter of paper roll

Self-adhesive label parameters:

Backing paper: 62 grams of white glassine backing paper should be selected. The paper is dense and has good internal strength and light transmittance. It is firm and not easy to be torn. Excellent die-cutting performance.

Basic weight:

62g/©O±5% Thickness: 55¦Ìm±5%

Tensile strength:

Machine direction: 16kg/25mm Lateral direction: 7kg/25mm

Tearing resistance:

Machine direction: 25g/sheet, transverse direction: 31g/sheet

Transparency:

52% Label spacing: 3-4mm±0.2mm

The distance between the upper and lower edges of the label and the upper and lower edges of the bottom paper: 2mm

Work flow:

Separate bottle ¡ú convey ¡ú label ¡ú finished product
Performance characteristics:
1. This equipment is used for labeling round bottles or cylindrical objects.

2. Powered synchronous tension control supply labels, stable and fast supply, ensuring label delivery speed and labeling accuracy.

3. The bottle separation mechanism uses synchronous sponge wheel stepless speed regulation, and the bottle separation distance can be set arbitrarily.

4. Label synchronous positioning mechanism, label positioning error is plus or minus 1mm.

5. Manual man-machine interface, simple operation, anyone can easily operate this equipment quickly.

6. Multi-point emergency stop buttons can be installed in appropriate positions on the production line to ensure safe connection operation and smooth production.

7. The label peeling distance can be adjusted arbitrarily, suitable for labels of different lengths and debugging, and easy to use.
Control System
The labeling host adopts a 5-phase stepping system. 2-phase, 5-phase and micro-stepping systems are mainly due to the different resolutions displayed by the driver. The 2-phase stepping system motor can be divided into 400 divisions per revolution, and the five-phase stepping system motor can be divided into the smallest division per revolution. It is 1000 divisions, the best performance is micro-stepping, the acceleration and deceleration time is shorter, and the dynamic inertia is lower. It is suitable for driving the labeling machine and has high precision.
Machine Layout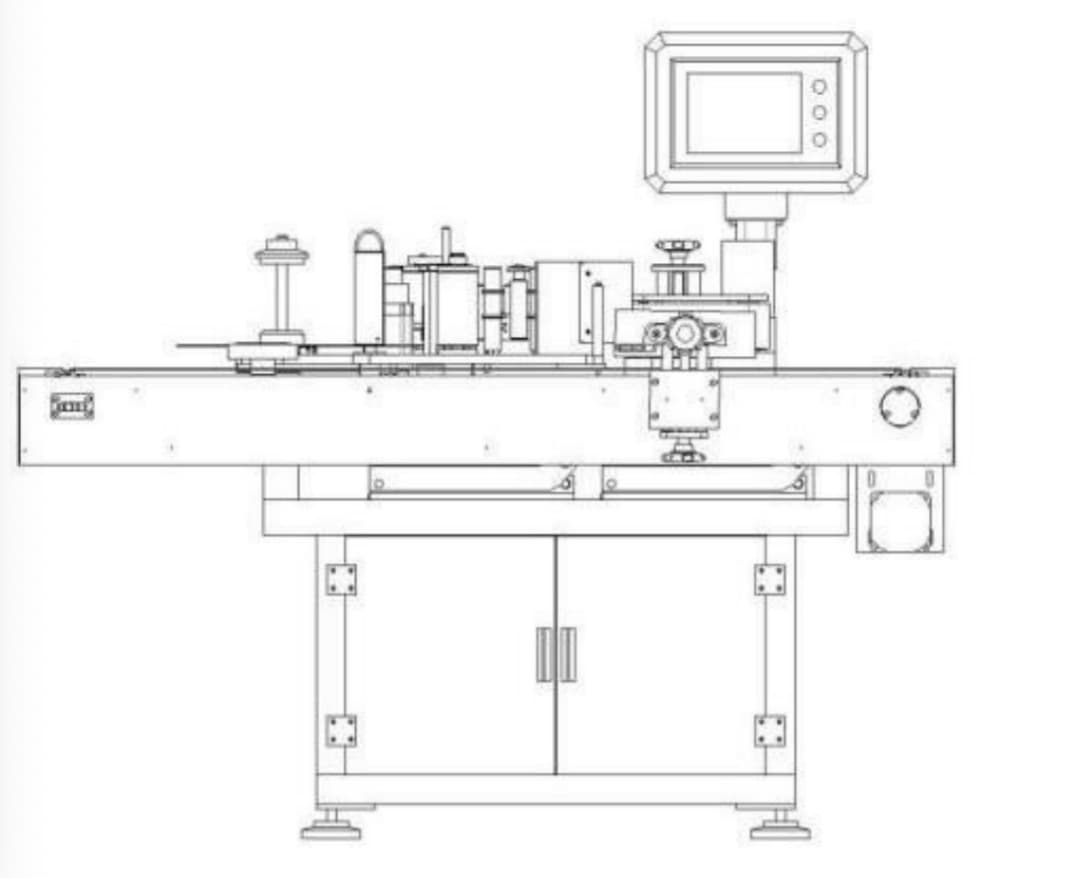 Remark: The products are continuously upgraded, and the appearance refers to the real object.
Electrical Parts
| | | | | | |
| --- | --- | --- | --- | --- | --- |
| No | Name | Factory | Model | QTY | Remark |
| 1 | Stepper motor | Huanda | 86BYG250H156 | 1 | |
| 2 | Drive | Huanda | 86BYG860 | 1 | |
| 3 | PLC | Siemens | SMART/ST20 | 1 | |
| 4 | Touch screen | Siemens | CGMS/7062 | 1 | |
| 5 | Transformer | Zhuo Nai | JBK3-100VA | 1 | |
| 6 | Bottle inspection sensor | Korea Autonics | BF3RX/12-24VDC | 1 | |
| 7 | Inspection sensor | Korea Autonics | BF3RX/12-24VD | 1 | |
| 8 | Coding machine | Shanghai | HD-300 | 1 | Option |
| 9 | Conveying motor | Taili | CV10-200W | 1 | |
| 10 | Press standard motor | Taili | CV10-120W | 1 | |
| 11 | Separating motor | Taili | CV15-40W | 1 | |
| 12 | Power supply | MEAN WELL | S-75-24 | 1 | |
| 13 | Stainless steel | | SUS | | |
| 14 | Aluminum | | L2 | | |
Product Details:

Our Service
Through years of experience, Qualipak provides several services which cover almost all requirements of clients. These services include production, design, inspection, packaging, shipment, product recommendation, after-sales service, and multiple client solutions.




We can supply m§Ñsk raw materials for you if you can't buy materials from in your local market.

We have a good relationship with more than four international shipping companies who have rich experiences in handling different kinds of shipping ways and also the customs declarations and clearances. They all have good shipping services to save you time and costs.

We have a professional international technical team. To provide you with after-sales service and guidance.
After-sale Service
We will always be responsible for the machine you purchased. Nearly 10 professional after-sales personnel provide global technical services. In this way, we also provide professional services, such as guide installation services, equipment commissioning and operation services, maintenance services and equipment parts replacement. Ensure the quality of your products, while eliminating your worries.
1. The whole machine is guaranteed for 1 years.

2. Provide professional machine operation and maintenance guidelines.

4. Provide 24-hour online professional technical services .
Customer Feedback