ZP21 Multi-functional Rotary Tablet Press Machine
Applications
This model is to press the various kinds of granular materials into tablets, with the most outstanding advantage of being able to produce irregular tablets with wide different geometrical shapes, such as double layer tablets, ring shape tablets and double side engraved tablets....
Introduction
Features
1. Made of stainless steel, the housing is fully closed. The surface of the rotary turret is covered with a hardened layer so
that the turret surface is wear resistant. The machine conforms
to GMP requirements.
2. Adopt transparent windows, tableting state can be observed
clearly. The windows can be opened, cleaning and
maintenance is easy.
3. Hydraulic pressure system can assure stable working and
good performance.
4. When making double layer tablets, it is available to eject the
first layer tablet for sampling.
5. ZPW21B is upgraded model from ZPW21A machine, its
speed can be adjusted by frequency inverter.
Specifications
Model

ZP21

Number of Stations

21

Max Main Pressure (KN)

80

Max Tablet Diameter (mm)

Round tablet£º20

Irregular tablet£º22

Max Filling Depth (mm)

18

Max Tablet Thickness (mm)

7

Max Turret Speed (r/min)

36

Max Production Capacity (pcs/h)

45000

Motor Power (kw)

4

Overall Size (mm)

860×780×1680

Machine Weight (kg)

1200
Detail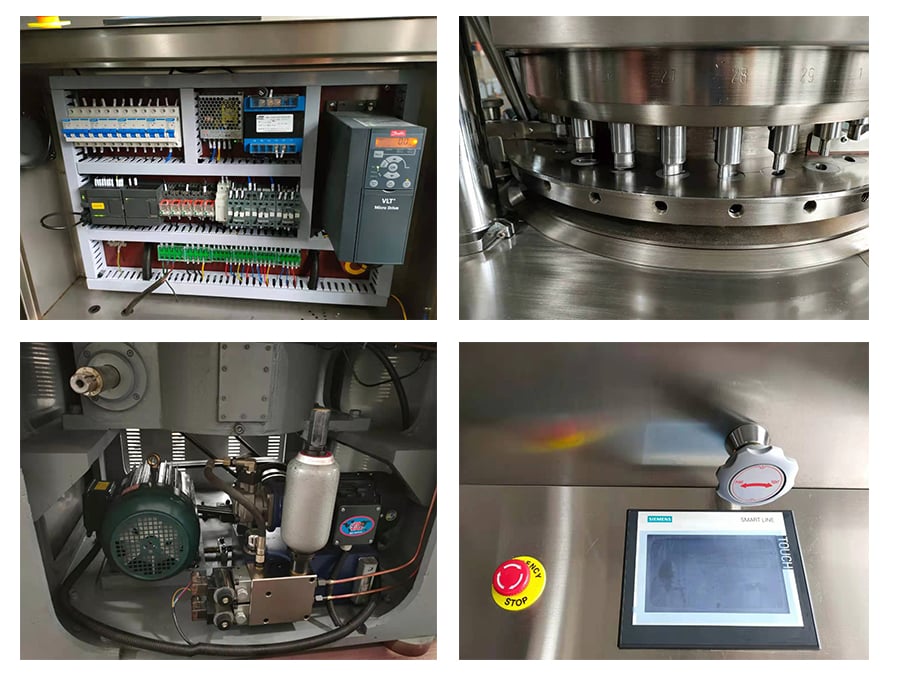 Our Service
Through years of experience, Qualipak provides several services which cover almost all requirements of clients. These services include production, design, inspection, packaging, shipment, product recommendation, after-sales service, and multiple client solutions.




We can supply m§Ñsk raw materials for you if you can't buy materials from in your local market.

We have a good relationship with more than four international shipping companies who have rich experiences in handling different kinds of shipping ways and also the customs declarations and clearances. They all have good shipping services to save you time and costs.

We have a professional international technical team. To provide you with after-sales service and guidance.
After-sale Service
We will always be responsible for the machine you purchased. Nearly 10 professional after-sales personnel provide global technical services. In this way, we also provide professional services, such as guide installation services, equipment commissioning and operation services, maintenance services and equipment parts replacement. Ensure the quality of your products, while eliminating your worries.
1. The whole machine is guaranteed for 1 years.

2. Provide professional machine operation and maintenance guidelines.

4. Provide 24-hour online professional technical services .