Professional Automatic UBM-8SX Capsule And Tablet Counting Line
Capsule And Tablet Counting Line is used for counting and filling capsules in poly bags and rigid containers. This line is the most complete, affordable, and innovative capsule and tablet counting line in the marketplace. We fully integrated this line to include from automatic capsule and table counting machine, linear bottle capping machine with c...
Introduction
Item
Basic Machines
1
UBM-8S Automatic Capsule and Tablet Counting Machine
2
UBM-CG Linear Bottle Capping Machine with cap elevator
3
UBM-LF Induction Sealing Machine
4
UBM-200YT Round Bottle Single Side Labeling Machin
5
UBM900ZP Turn Table (collect bottles)
The bottle size:17.5mm dia x 12.7mm height  38.9mm dia x 18.3mm height
Product Details
UBM-8S Automatic Electronic Counting Machine
Automatic Electronic counting machine is special for counting tablets, soft gelatin, hard capsule and chewing gums, etc. This machine adopts 8 sets imported counting sensor for counting with 8 Guiding Way and two head. The advantage of the machine is no need change mould when you change the counting object, only adjusting the counting table height by Easy Adjust wheel. The machine comes with Touch screen operation and PLC Control for convenient running.
Main Technical Data:
Model Name
UBM-8S
Application
1. Filled capsule(00-5#)

2. Soft Gelatin capsule

3. chewing gum

4. tablet

other solid object under machine range

Hopper Volume
20L
Capacity
20-30bottles(50-100 pcs/bottle)/min
Filling Quantity
2-9999pcs/bottle (adjustable)
Bottle Size
Diameter: 30-75mm

Height:40-180mm

Counting Size
Thickness: 3-10mm

Diameter: 3-22mm

Length: 3-30mm

Compressed air
0.6Mpa
Machine Weight
250kg
Machine Size L × W × H (mm)
1360x1300x1700mm
Configuration:
Name
Manufacturer
Electric machinery
Panasonic Electric
Photoelectric sensor
Germany Sick
Counting photoelectric system
SED
Pneumatic components
Airtec International Group
Leakage protection
Schneider
Switch button
Taiwan MeanWell
Human interface
Taiwan Delta
Product Picture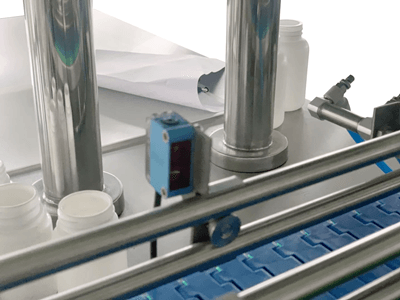 Photoelectric eye will judge whether there is bottle at the feeding mouth (it does not work without bottle)
The material moves orderly to the medicine chamber through the vibration of the corrugated plate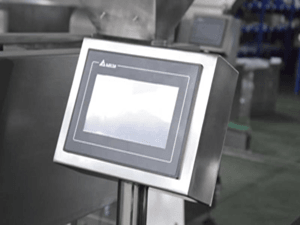 Touch screen control
UBM-CG Linear Bottle Capping Machine
The machine adopts three groups of friction rollers to screw caps. Screwed caps are not easily damaged by the screwing unit. And if caps are not screwed tightly or tilted, they will be found and rejected automatically. The screw capper is available for various bottles and its changeover is fast and easy. The machine overthrows conventional means of arranging cap by electromagnetic oscillation but arranges caps pneumatically to avoid noise pollution and reduce electric power consumption. It also provides international brand PLC controls, variable frequency controls and photoelectric controls. The machine is incorporated with the device of arranging and lifting cap and a big capacity of cap hopper, so less cap feeding times reduces labor intensity. Generally operators can grasp fluently. The machine conforms to the requirements of GMP completely.
Main Technical Data:
Size of bottles:
20-500 ml
Output:
50-150 bottles/min
Diameter of caps:
φ20-65 mm
Diameter of bottles:
φ20-80 mm
Power supply:
220V 60Hz
Power:
1.5KW
Overall dimensions:
2160*1050*1900 mm
Weight:
650KG
Configuration:
Name
Manufacturer
Electric machinery
Panasonic Electric
Photoelectric sensor
Germany Sick
Pneumatic components
Airtec International Group
Leakage protection
Schneider
Switch button
Taiwan MeanWell
Human interface
Taiwan Delta
Product Picture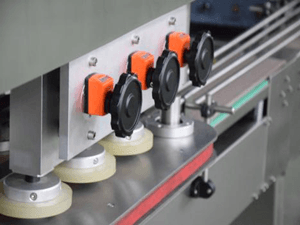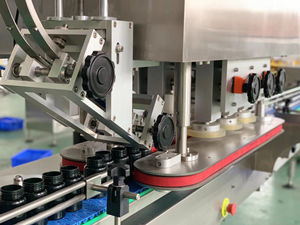 The material drives the cap to rotate through the cap roller of the bottle clamping belt to tighten the cap
The cap system will place the cap on the bottle in an orderly way
UBM-LF Induction Sealing Machine
Intermediate frequency power supply of the machine makes effective output power great and output current adjustable. It also auto tracks change of current load and makes adjustment in time. If there is no bottle in the specified position, it will stop automatically to save electric power. The machine is available for various bottles. The special sealing induction plate is completely shielded without electromagnetic pollution and its safety is superior to high-frequency power supply. Coding system of the machine adopts built-in water circulation to save water consumption and reduce water pollution; it also has pressurizing system which features good cooling conditions, short sticking time, firm sealing and high stability. Even if the mouth of the bottle is moist with many kinds of liquid, the machine still seals perfectly. If water stop, The machine will sound alarm. Besides, some mechanism protects the machine from being damaged by over current, over voltage and under voltage. And it also has functions of continuous counting and automatic rejection of caps without aluminum foil. The product confirms to the requirements of GMP.
Main Technical Data:
Bottle Size
20-300ml
Output
50-120bottles/min
Diameter of caps
Smaller than 60mm
Height of bottle
220mm
Power Supply
220V 60Hz
Power
2Kw
Overall Dimensions
1300*780*1750mm
Configuration:
No.
Name
Model
QTY
Specification
Original
1
Breaker
DZ47-63    C32
1
30/400V
Delixi
2
Solid State Relay
CDG1-1DA
1
DC12V/40A 480V
Delixi
3
Bridge rectifier
KBPC5010
1
50A/1000V
SEP (Taiwan Changhong)
4
Filter capacitor
1
2200uF/450VDC
Xunshuo
5
Transformer
SJW-0452/EI-57
1
8V -0.8A/16V-0.8A
Shengjiewei
6
Cooling fan
AC AXIAL FAN
3
0.12A/20W
Elvin
7
Digital display
HB5153B
1
0~75mV/0~19.99A
Huibang
8
Power tube
Toshiba
4
50A /500V
Toshiba
9
Integrated circuit
Motorola
1
Motorola (USA)
10
Integrated circuit
4
AT company, ST company, Fairchild
11
Electrolytic capacitor
Rubycon
7
1uF/16V
Ruby (Taiwan)
12
Capacitance
MKP-X2
1
10uF/275V
Create
13
Polypropylene capacitor
GRAY 335
1
335J/800V
Shenzhen
Product Picture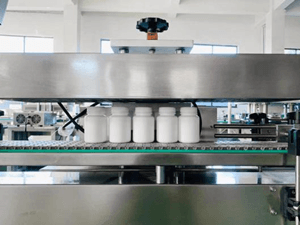 UBM-200YT Automatic Round Bottle Labeling Machine
SED-200YT model vertical type round bottle Round Bottle Labeling machine, in order to achieve rationalization of production target and design. The machine comes with automatic labeling process, simple operation, high speed running, accurate labeling position, beautiful labeling. The machine can be used for pharmaceutical, chemical and foodstuff Industry labeling.
Working principle:
Put the bottles into the conveyor system (or Auto Bottle Ordering Machine is optional), the conveyor will transport the bottles to labeling station. There is automatic sensor equipped on the machine will sense the passed bottle and feedback to PLC. The PLC gets the signal, then feedback to Step Motor, the step motor supplies the Label to Rotation Pressing Roller which makes the labeling process.
Main Feature:

The machine adopts step motor for driving, high accuracy working. (Servo Motor is also an optional)
PLC control with Touch screen for operation. This controlling system are Taiwan Delta Brand.
The sensors of the machine are Japan imported brand, Keyence, High speed and accurate working.
The machine comes with automatic alarming system when lack of label, breaking label, lack of ribbon.
Whole body stainless steel 304 with T6 Aluminum Alloy meets GMP Standard.
The position of height and backwards or forwards are adjustable.
Main Technical Data:
Driver Motor:
Stepping motor
Operation:
Right or left
Running speed:
50-120 bottles/min
Packaging Range:
Ф15 – Фdiameter 100 mm

Height 25-350mm

Label size width 10-150mm length 15-200mm

Maximum diameter of label:
Ф300mm
Coil diameter:
Ф75mm label
Weight:
300kg
Power supply:
AC220V  0.5Kw 60HZ
Overall Size:
1850*730*1400mm
Configuration£º
Name
Manufacturer
Electric machinery
Panasonic Electric
Photoelectric sensor
Germany Sick
Pneumatic components
Airtec International Group
Leakage protection
Schneider
Switch button
Taiwan MeanWell
Human interface
Taiwan Delta
Product Picture
UBM-900ZP Turn Table
Frame

All Stainless Steel Construction to meet the GMP Standard

Specifications

Feeding disk speed less control system
Diameter of disk: option 900mm
Turning disk motor power: 200W
Variable Speed Control for motor

Capacity

Production Capacity: 20-80 bottles per min.
Production Capacity Speed can be adjusted.

Dimensions & Weight

Machine dimension (L x W x H): 900 x 900x 1000mm
Main Machine weight:  100kg

Power Source
Through years of experience, Qualipak provides several services which cover almost all requirements of clients. These services include production, design, inspection, packaging, shipment, product recommendation, after-sales service,  and multiple client solutions.
We can supply m§Ñsk raw materials for you if you can't buy materials from in your local market.
We have a good relationship with more than four international shipping companies who have rich experiences in handling different kinds of shipping ways and also the customs declarations and clearances. They all have good shipping services to save you time and costs.
We have a professional international technical team. To provide you with after-sales service and guidance.
After-sale Service
We will always be responsible for the machine you purchased. Nearly 10 professional after-sales personnel provide global technical services. In this way, we also provide professional services, such as guide installation services, equipment commissioning and operation services, maintenance services and equipment parts replacement. Ensure the quality of your products, while eliminating your worries.
1. The whole machine is guaranteed for 1 years.

2. Provide professional machine operation and maintenance guidelines.

4. Provide 24-hour online professional technical services .
Customer Feedback